CONSULTATIONS
Stay Beautiful Medspa consultations are held in our private office, conveniently located inside the Medical Center at Choate in Woburn. A 15-minute consultation is offered free of charge and we encourage you to talk openly about any skin concerns that may be bothering you. We have treatments available to help with acne scars, dry skin, sagging skin, wrinkles, loss of volume, and more!
During your consultation, we will make recommendations for skincare services and/or injectables that will rejuvenate your skin and help achieve your desired results. This typically involves injectables (such as Botox, Juvederm, or Kybella), medical-grade skincare treatments (such as a HydraFacial, Ultrasonic facial, or dermaplaning), and medical-grade skincare products from our SkinMedica and ImageMD skincare lines to help maintain the results at home.
APPOINTMENT REMINDER POLICY
As a courtesy to our patients, we will send you an email reminder 48 hours prior to the scheduled service and call you 24 hours prior. If you choose not to provide us with your email or phone number or should the appointment reminder system fail for any reason and you do not receive an appointment reminder, it is still your responsibility to manage your appointment and adhere to the cancellation policy below.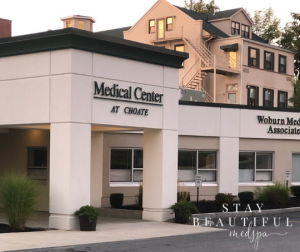 ARRIVAL
New patients should arrive 15 minutes prior to their appointment to complete paperwork. Late arrivals will limit the time available for your treatment. We will do our best to accommodate you however, in some cases, it may be necessary to reschedule your appointment.
CANCELLATION POLICY
Kindly provide us with 24 hours notice if you need to cancel or reschedule your appointment. Cancellations made in less than 24 hours of an appointment or failure to show up for an appointment will require a non-refundable deposit of $50 in order to re-book an appointment.
PRICES & PROMOTIONS
We are committed to continuously expanding our services to bring you the latest and greatest technology. Although we make every effort to keep our website and spa menu updated accordingly, please note that prices, services, and products are subject to change at any time without notice.
Stay Beautiful Medspa special offers, referral rewards and discounts may not be combined. When presented with more than one discount opportunity, we will automatically give patients the discount of greater value at the time of purchase. Referral rewards may be saved and used at another appointment. Allē aesthetic rewards may be used in addition to any Stay Beautiful Medspa special offer.  Be sure to sign up for Allē by visiting alle.com prior to your visit to start earning points right away.
PAYMENTS
Our practice is limited to elective aesthetic medicine therefore, we do not bill insurance. All prices are subject to change without notice. We accept cash, Visa®, MasterCard®, Care Credit™ and Stay Beautiful Medspa gift cards; we do not accept checks from new patients.
GIFT CARDS
Gift cards may be used toward any service or product offered at Stay Beautiful Medspa (some restrictions may apply). Gift cards are not redeemable for cash and cannot be replaced if lost or stolen.
REFUNDS
Services: We do not offer refunds on services rendered.
Products: Any unopened/unused item may be returned within 7 days with a receipt, and we will issue a spa credit or exchange. Due to health regulations, we cannot accept any opened or used products for return. Exception: A spa credit or product exchange may be given if an allergic or adverse reaction occurs, please contact us for more details.
PRACTICE-PATIENT RELATIONSHIP
We love having you as a patient, but we do reserve the right to refuse service at any time, to anyone, for any reason.
FULL DISCLOSURE
Our primary goal is for you to be happy with our service and to love the results you achieve. We believe in full disclosure, which means we strive to ensure that you understand the treatments you receive, and the risks and benefits associated with each of them. With this in mind, please be assured that our team will only recommend treatments and products that will benefit you specifically and which are medically appropriate for you. And if you have any questions at any time, please ask. We're here to help!