What are dermal fillers?
Dermal fillers are a great way to diminish facial lines and restore volume and fullness in the face.* As we age, our faces naturally lose subcutaneous fat. This means that facial muscles must work closer to the skin's surface, so smile lines and crow's feet become more apparent. Fillers work instantly to fill in areas on the face where volume has been lost. When you come in for a consultation at Stay Beautiful Medspa, we will discuss which Juvéderm filler is right for you.
What is Juvéderm?
If you want to add volume to your face, Stay Beautiful Medspa offers an FDA-approved hyaluronic acid filler that may be right for you: Juvéderm. This filler works to help restore that youthful look to your skin and can even enhance lip size and shape. Juvéderm may also be a beneficial procedure for those that suffer from surgical scars or serious acne.
The Juvéderm family of products
There are several Juvéderm products available and each is designed to treat moderate-to-severe volume loss and wrinkles:
VOLUMA XC
As you age the cheek area begins to lose its shape and may begin to sag. VOLUMA XC instantly adds volume and contour in your cheeks giving you a more youthful, smooth appearance. It is the first and only filler proven to last up to 2 years in the cheek area. Touch-up treatments may be necessary depending on desired results. (FDA approved.)
VOLBELLA XC
This filler softens vertical lip lines or any lines around the mouth, and adds subtle volume to lips. VOLBELLA XC provides smooth results without being too drastic. There is a small amount of lidocaine in this gel to improve comfort of the injection by reducing the sensitivity to any pain. It delivers long-lasting results up to one year. Touch-up treatments may be necessary depending on your desired results. (FDA approved.)
VOLLURE XC
This filler smooths out moderate-to-severe lines and wrinkles. VOLLURE XC can also be used to volumize certain areas of the face. Vollure uses Vycross technology – a method in which a combination of low and high molecular hyaluronic acid (HA) is used to improve cross-linking efficiency. This means a longer lasting, natural-looking, smooth result. (FDA approved.)
Ultra XC
If you've noticed your lips thinning over time, or if you naturally have thin lips that you would love to plump up, this filler can provide a natural, long-lasting result. Juvederm Ultra XC uses a hyaluronic acid (HA) gel that adds fullness and shape to your lips. Results can last up to one year. Touch-up treatments may be necessary depending on your desired results. (FDA approved.)
Ultra Plus XC
This filler is used to smooth out moderate-to-severe wrinkles. Ultra Plus XC is perfect for softening lines around the mouth and for filling out deeper wrinkles. (FDA approved.)
When you come into Stay Beautiful Medspa for a Juvéderm treatment, your injector will assess your beauty goals and provide you with the best treatment options possible for maximum results!
What can I expect during treatments?
We will first examine your face to determine which injectable and how much product will provide the best outcome. The 30-60 minute procedure will involve a series of injections into the desired areas. Because of the infused lidocaine, the injections are virtually painless. However, we do have a number or pain reducing methods you can choose from to further minimize discomfort.
What should I expect from the results?
Results are determined by your metabolism, the location of product placement, and the number of syringes used. With all of these Juvéderm products, you can expect the results to last anywhere between 6-24 months.*
Before and after Juvederm Fillers photos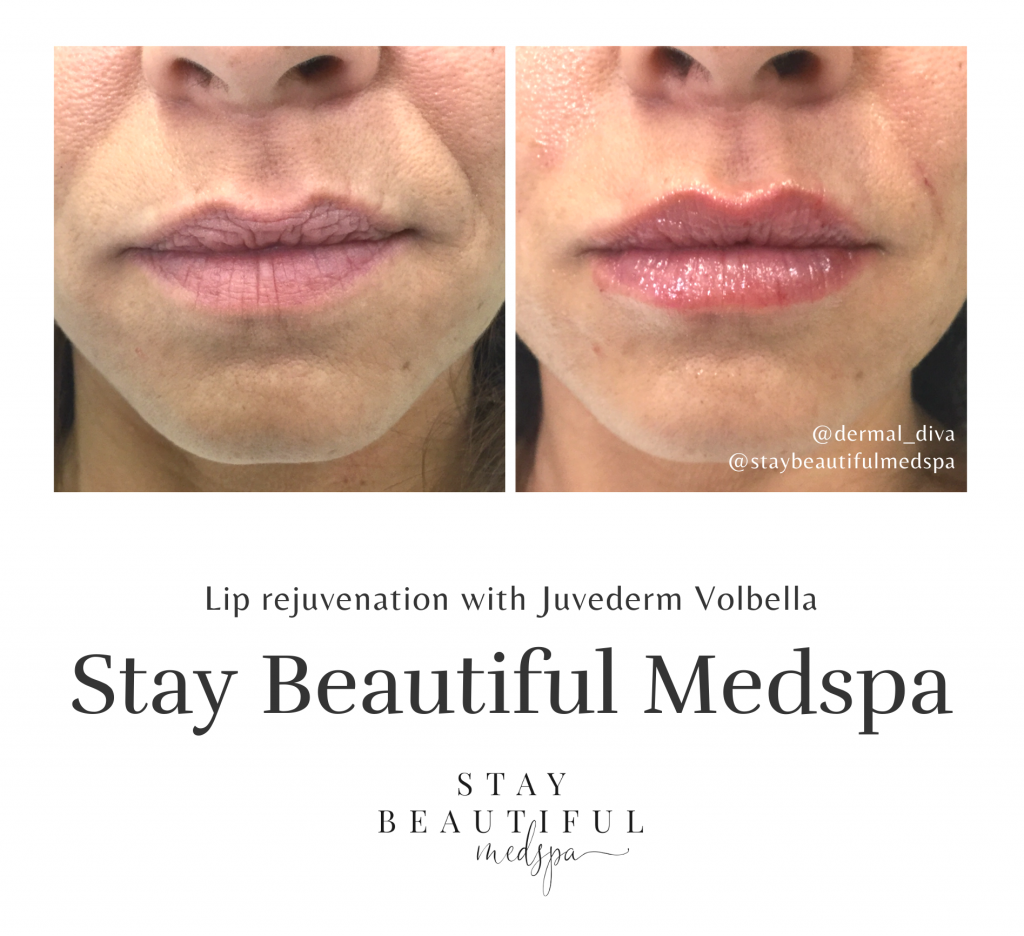 Request a complimentary consultation in Woburn, Massachusetts
To find out how fillers can help you, request an appointment at Stay Beautiful Medspa in Woburn. During your complimentary consultation, we will assess your facial volume loss and create a custom treatment plan just for you. All of our cosmetic injections are performed by a Certified Aesthetic Registered Nurse, so you can get safe, effective results. To get started, give us a call at (978) 203-0172 or fill out the form on our site to request an appointment.