What is laser vein removal?
Laser vein removal treatments can effectively reduce the appearance of spider veins and broken blood vessels on the face and body without surgery or downtime. At Stay Beautiful Medspa, we use the GentleMax Pro device to remove unsightly veins from the surface of the skin, including the legs, feet, arms, and hands. Treatments are pain-free, quick, and provide amazing results. GentleMax Pro is the gold standard treatment for vein removal. Clear up your complexion, restore your skin, and stay beautiful with laser therapy!
How does laser vein removal work?
Laser vein removal is a fast, easy, and effective way to treat superficial veins. GentleMax Pro uses a focused wavelength of light, which targets the pigment in the blood. The laser heats up small veins and destroys them without damaging the nearby skin tissue. Over a period of 4-6 weeks, the treated vein is reabsorbed by the body and disappears. Once a vein is destroyed, blood is automatically rerouted through healthier veins, so there is no downside to these treatments.
What can I expect during treatments?
Treatments are performed at our medspa in Woburn, Massachusetts, and usually take less than 20 minutes. The majority of our clients do not need any type of anesthesia, but we can provide a topical anesthetic 20 minutes before the procedure. GentleMax Pro has a built-in cooling system to prevent the tip of the laser from getting too hot. Most clients describe feeling a slight tingling sensation from the laser. There is minimal downtime and you will be able to resume most normal activities immediately.
What should I expect from the results?
Most clients are satisfied by their results in a very short amount of time, but it may take several weeks for the final results to be seen.* Shortly after the procedure, you may feel a slight bump on the treated skin but the recovery time is short and it will disappear within 2-4 hours. The area may also appear slightly redder and occasionally may be bruised.
Am I a candidate?
Everyone is evaluated prior to laser vein removal treatments. Spider veins do not cause symptoms and are only removed for cosmetic reasons. Laser therapy is most effective for the removal of very small spider veins and is not used to treat large varicose veins.
Before and after photos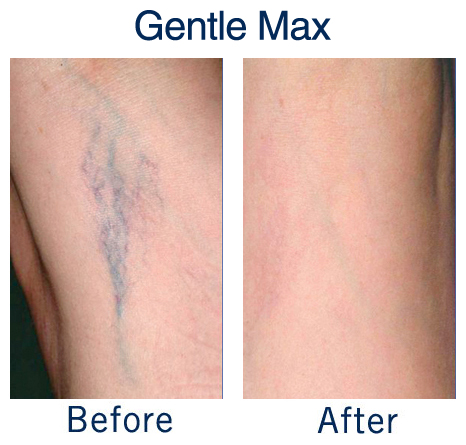 Request laser vein removal in Woburn, Massachusetts
If you have unsightly veins on your face or body, schedule laser vein removal at Stay Beautiful Medspa in Woburn, MA. During your initial consultation, we will assess your skin and create a custom treatment plan just for you. To get healthier, beautiful skin, give us a call at (978) 203-0172 or fill out the form on our site to request an appointment.